IAS takes a truly strategic approach to insurance and financial needs and ensures a best fit for businesses, individuals and families each and every time.
Far from your average broker, IAS specialises in pairing solutions to circumstances. Considerate, articulate and sensitive to the review and management of claims, policies and products, our team is driven and dedicated to ensuring a custom fit for you, your family and business. Over four decades, we have managed the payment of thousands of claims and take each and every review, claim and recommendation personally.
Incorporated for over 40 years ensures experience, knowledge and skill at identifying unforeseen risks and producing effective strategies. Unlike most brokers, we do not rely upon mathematical formulas or statistical models generated by computers to produce solutions– we believe every client is unique and our approach is tailored accordingly.
Known for our ability to dissect complex, detailed and often misunderstood wording and polices, we are skilled at identifying weaknesses and proficient in highlighting opportunities for you. Our "less jargon, more insight," approach to business provides clients with the confidence that a best fit product will always be in place and that attention to detail from specialist account managers is ongoing.
Ethical Standards and Charter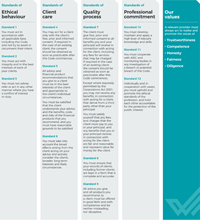 There is a new FASEA Standards Authority as at 1 January 2020.  They have implemented a new code which includes a set of principles and core values that lays the foundations for our profession.
It is a principles based model providing a powerful framework to reinforce ethical conduct and encourage a deeper engagement by the individual with their duties to their client as well as wider society.
This Code and the Standards within it are a matter of legal obligation and provide a foundation for conduct for all financial advisers, whatever their employment circumstance. The Code is to be monitored and enforced, by one or more monitoring bodies, under a compliance scheme approved and supervised by ASIC.
We welcome the new FASEA Code and an upgrade of the Standards, these fall in line with the way the IAS conducts its business and has been conducting business for the last 45 years.  They also align with our own core values.
Jo Brassett
Managing Director/Senior Financial Advisor
After many years working in the finance sector in London, Jo returned home and joined IAS in 2008. Since then, she has studied all facets of Financial Planning and Self-Managed Superannuation Funds. Her knowledge also extends to Mortgage Broking and General Insurance.She is now a qualified Senior Financial Advisor.
"I get great pleasure in helping businesses and families build and protect their financial wellbeing by matching clients with the right solutions.
I am dedicated to understanding their aims and working with them to achieve short and long term goals.
One of the most important lessons I've learned from working alongside my father is that being a great financial advisor involves listening to and understanding the needs of our clients.
Being able to recognise that every person's economic, business or personal situation is unique and tailoring an individual financial plan provides me with great satisfaction"
Our values
Trustworthiness
Acting to demonstrate, realise and promote the value of trustworthiness requires that you act in good faith in your relationships with other people. Trust is to be earned.
Reliability
The ability to be relied on or depended on, as for accuracy, honesty, or achievement. Consistent performance upon which you can depend or trust.
Curiosity
The desire to know and be inquisitive about anything including others concerns. Curious people always ask questions and search for answers. Their minds are always active.
Consistency
Demonstrating a high level of integrity, honesty, loyalty and respect in all situations with all people. Reliability and uniformity in dealings with clients.